Ribbon Fan-out Patch Cords/Pigtails
Patch cables are used in two major application areas: computer work station and optical cross connect distribution center.SisoTT can provides various types of fiber optic patch cables.
Catalog
Warranty
Contact us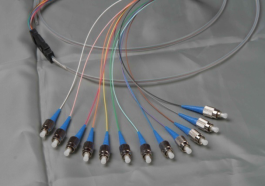 Product Description:
Ribbon Fan-out Optical Patch Cord is protected and separated fiber ribbon (general 12 cores) with connector on the end to realize the separate fiber connection with the ODF. The quality and performance is reliable and stable.
Product Features:
Low Insertion Loss
High Return Loss
Good Repeatability
Good Exchangeability
High Temperature Stability
Product Applications:
ODF (Optical Distribution Frame)
Optic-fiber Communication Systems
Computer Networks
Optic-fiber Access Networks
Optical Fiber Test Equipment
Product Specifications:
Item
FC, SC, ST,LC…
End-Face Type
PC
UPC
APC
Insertion Loss (dB)
≤0.20
≤0.20
≤0.30
Repeatability (dB)
≤0.10
Exchangeability (dB)
≤0.20
Return Loss (dB)
≥45
≥50
≥60
Fiber Type
Corning SMF-28TM, 9/125um
Operating Temperature (℃)
-25~+70
Storage Temperature (℃)
-45~85
Durability (time)
>1000 times
Industry Standard
Telcordia GR-326-CORE